In the complex world of business emulation, "Mahajan Conveyor" has known many twists, turns and diversification, but never has the signature of the marquee been lost.
Since 1958, Mahajan's have been guided by the grand passion that has led them to indulge in the profitable business of "Rough top end" in the market. The updated carnation of "Gupta Rubber mill" has come into existence as "Mahajan Conveyor". The success of rechristened "Mahajan Conveyor" is very large due to fore vision and innovative strategies of Mahajan's who takes on the manufacturing, dealing and exporting the Rubber belt, transmission belt and with professionalism, extra ordinary self belief and commitment valued for the efficient management.
The sublime vision of "Mahajan Conveyor" is based on the exhaustive study of modern conveyor's spectrum, collection and analysis of data and application of logic as well to evaluate the chances of profitable return against the potential risk. The principal concerns of Mahajan Conveyors are establishing the updated version of state of art infrastructure Quality conscious approach, timely delivery schedule and satisfaction of client.
The specialization of Mahajan Conveyor lies in the "ROUGH TOP END AND HYGIENIC" and we always claim to proclaim "No compromise with quality and tryst the desires of clients as our priority". "MCI AND PR HINDUSTAN" is the name under which our deal of products takes place. We have our operational center located in kandori, himachal Pradesh. But the trading of "rough top end" product is dynamically extended unto national and international level.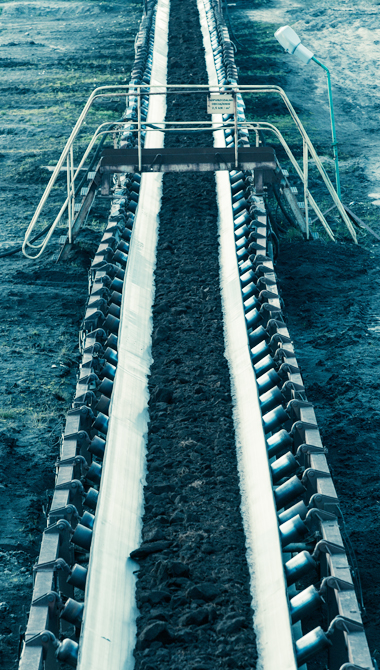 Production Infrastructure
As span infrastructure it is as beneficial will it be for the profitable outcome and flourishing business. "Mahajan Conveyor" has a prominent acquaintance as its infrastructure is armed with sincere, experienced and dynamic personnel recruitment, the high tech machinery and equipments for consistent production and the ideal quality managing authoritative staff that eminently performs with the assurance of accountability towards the clients and the super management of the company.
UNMATCHED ADVANTAGES
A perfect combination of quality materials, modern technology, experience manpower and elaborate quality assurance measures, ensure that MAHAJAN conveyor belts have the following unmatched advantages.
HIGH ADHESION LEVELS
Special chemical bonding techniques ensure very high adhesion levels between cover to ply and ply to ply, achieving superior belt consolidation and higher peel resistance.
OUTSTANDING IMPACT RESISTANCE
High adhesion levels and presence of thick rubber cushions between plies provides outstanding impact resistance and eliminates cover stripping and ply to ply desalination.
SUPERIOR TOUCHING & FLEXIBILITY
higher transverse flexibility of MAHAJAN belts allows deeper touching, improving volumetric transfer capacity of conveyors. At the same time, higher long ideational flexibility allows use of smaller pulleys diameter and reduces flex fatigue.
We sell all over the world.
Satisfaction or money refund guaranteed.
Lifetime updates & support.
24 hours shipping.
We provide best tools ever.
Length
Open or Endless
Ply
1 to 14 Ply
Thickness
2mm to 40mm
Types of Synthetic Carcass
General Duty (GD), extra duty (ED) & Heavy duty (HD)
Edges
Cut edge or Molded edge
Breaker Ply
Breaker is provided on the face, back & edges as per requirement
Fabric
Cotton/cotton, Cotton/Polyester & Synthetic Fabric like
Nylon/nylon and Polyester/Nylone(EP), Polyester/Polyester (EE)(EH)
Quality
The quality maintenance of the business is the force of its assured expansion and bloom. However, it is not like a bed of roses to create, retain and spread out its extension among the rough and tough competitors in the current eon where every next entity is conspiring to lag behind others and attain maximum monitor turnover for affluent life that would be laden with luxurious comforts. "Mahajan Conveyor" has been illustrating the highly effectual strategies to conquest the customer satiation by prompt manufacturing of qualitative " products that meet the globally standardized quality and hence, exuberance eventually turns after rendezvous with the delivery schedule of the demanded "rubber belts".
We are ISO 9001 : 2015 certified company for manufacture of rubber conveyor belts of all specification and all cover grades M-24 ,N-17 ,N-15 ,Heat resistant [HR] ,super heat resistant [SHR] ,Ultra heat resistant [UHR] Oil resistant [OR] ,Fire resistant [FR] ,Abrasion resistant , White conveyor belts. We purchase our raw materials from experienced, technically suitable and reliable sources so and then tested in the laboratory by our technical team so that we can provide the best product to our clients. While vulcanizing (curing) of belt our supervisors keep constant check on thickness, pressure, temperature for its straight running and uniform load bearing on belt.
Clientele
"Reward" is the utmost accolade that cherishes any identity to thrive more prominently. The incredible boom in the number of clients is not less than a prestigious reward for a business tycoon. "Mahajan Conveyor" has gained and established repo and goodwill among the "rough top end" clients in the market. The clients have been showing their stern faith in our satisfying services from around the world.
Our vision:
Create customer satisfaction and build long-term relationship through reliable and competitive suppliers.