There are zillions of conveyors who deal in distinctive conveyors such as rough top end, elevator top, wavy top and chevron etc. Mutinied Industrialization has made it essential to chip in conveyor belt manufacturing industry. Globalization has made it mandatory to foray into the world class industrialization. As "Excellence is our forte" so we chose "Rough top end" specifically to mark our eminence.
Our world class belting are molded in the advanced mechanical infrastructure using modest technologies of modifying the finest raw material into client-friendly and cost effective final product. The final output is the outcome of our tenacious personnel who keep vigil on the quality refinement of the product. Therefore, that final product seems to wine the confrontation of the world class standard to allure the clientele by serving them as per their customized demands for any particular application.
General purpose conveyor belt are classified in two grades:
M24 grade (Extra abrasion resistant, cuts and gouges resistant)
M17 grade (abrasion resistant)
Characteristics

The following characteristics of our conveyor belts would give you a wide choice to match your choice related them:

Capability of carrying sharp and bulky materials at high speed
Heat resistant belts with special covers to cope up the extreme temperature unto 180 degree
Fire resistant
Chemical resistant
Corrosion free
Hygienic belts for food processing units
Rough top belts.

Specifications

Width - Upto 2000mm
Length - End less
Ply - 2-10 ply
Ends - Open or endless
Edges - Cut or Molded / Protected
Fabric - Polyester/Nylon (EP) Nylon/Nylon (NH), Cotton/Nylon (CN) or Cotton/Cotton (CC)
Cover Grades - M-24, N-17, SHR, WHITE, UHR
Cover Thickness - 30mm

Mahajan conveyor belts are manufacturing most modern, using finest raw materials under a strict supervision of best persons in conveyor industry. MAHAJAN Conveyor matches all Indian/International standards and is manufacturing in a wide range to suit all applications.
Special Feature

Unique Carcass Construction
Superior Adhesion Levels
Improved Flex
Low Belt Stretch
Good Impact Resistance
Improved Resistance to Mechanical Damage
Mildew, Moisture & Rot Resistance
Improved Efficiency of Joints
Improved Tear Resistance
Suitable for all Applications

Types of Belts

General duty belts
Medium abrasion resistant
High abrasion resistant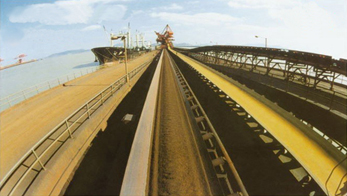 These belts are designed to successfully handle the issues related to oil & grease and provides due resistance to the conveyor belts. For delivering optimum performance, this oil resistant belt constitutes of parts and components that come coated with machine oil as well as are heavy-oil treated to handle the movement needs.
As these belts feature use of oil resistant synthetic rubber, these provide superior resistance to damaging effects that can be encountered while conveying.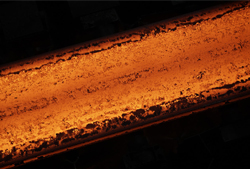 Fire Resistant belts commonly used in handling coal over the ground in coal mines, thermal power plants and in underground coal mines. Fire Resistant belts are similarly used for conveying other materials which are prone to ignition during use.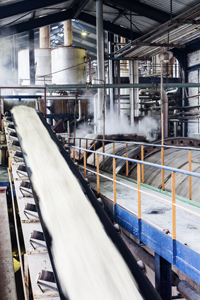 These belts are developed specially for application where HEAT & OIL resistant belts are required at the same time MAHAJAN conveyor heat and oil resistant belt can sustain up to 180*C And these belts are giving good performance in FOOD, petroleum industries and much more.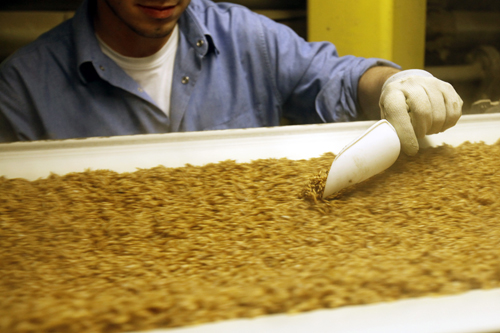 We provide white food grade conveyor belts. It is suited for handling food materials directly on the belt surface. These belts are white in color and do not transfer any color to the food products.
We manufacture these belts in two grades one is in pure compound of nitrile which is best for food industry and other is Nitrile+PVC which is acid resistant, moisture resistant and very good abrasion resistant.
Most popular application includes Sugar, Fish, Cereals, Meat, Nuts, etc.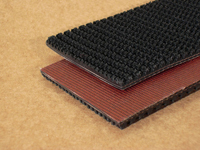 Used in the transportation of light weight goods, also on inclined surfaces. The special surface absorbs vibrations and impacts and also prevents material from slipping back. It provides excellent grip between belt and packages. Available with bareback – bottom cover, to give excellent grip to the conveyor belt.

The rubber cover is made of chemically resistant materials. It is specially made for those materials which would dissolve expand or corrode the belt. It is suitable for conveying material in chemical factory, fertilizer industry, paper mills, mining industry etc.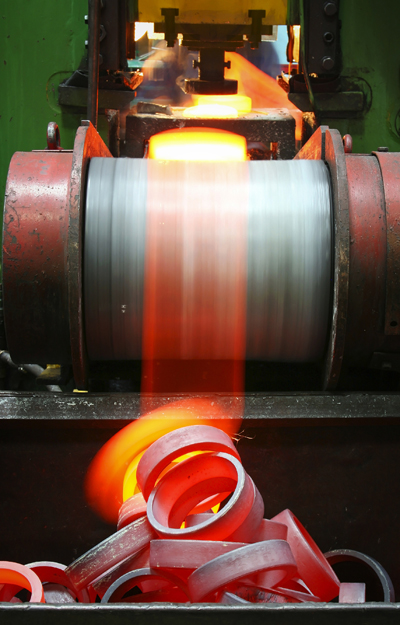 Ultra heat resistant conveyor belts have been developed and refined over many years so that they are more than capable of meeting the demands of even the most extreme conditions, which in some cases can involve temperatures as high as 250°C. High temperatures of conveying material can do serious damage to the conveyor belt carcass itself damaged.
The service life of these belts depend not only on the temperature of the materials to be transported and on the construction of the belt but also on a number of other factors such as the wear properties of the materials, the fall during loading, the size of the material, the length of the belt, the speed of the conveyor and any chemical action which may be involved. Choosing the correct thickness of the cover is also essential because the cover acts as a barrier between the heat source and the carcass.
We especially recommend these belts for Mines / Plants handling materials of Extreme Ambient Temperature above 250ºC : Conveying of Ultra High Ambient Temperature Material is mainly used in Manufacturing of Steel & Alloys, Rolling & Re-Rolling Plants, Cement Mining, Crushing & Handling Plants, Hot Mix Plants, Gaseous Coal Lignite Mines & Handling Plants, Carrying of Hot Crushed Sponge Iron towards Furnaces, Handling of Limestone Alums in Steel Plants, etc. We recommend Extra Heavy Duty Belts for all desired applications.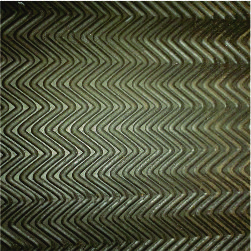 These belts are the belts used as inclination angle is almost vertical and is not appropriate for the installation of a smooth conveyor belt. These belts are designed with side support that helps in even return and avoid backward sliding of material. These belts are proper for carrying unit loads, bulk solids and heavy material.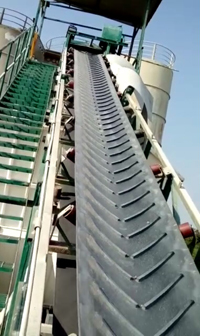 The chevron conveyor belts are used for carrying wet, loose sand and grain materials in bugs. In addition to a range of normal bulk goods, various special types are available for conveying hot goods, for the transport of goods containing oil and grease, for steep-incline conveying and with special reinforcing materials for particular applications.
The v-shape of the chevron cleats prevents the material from sliding back.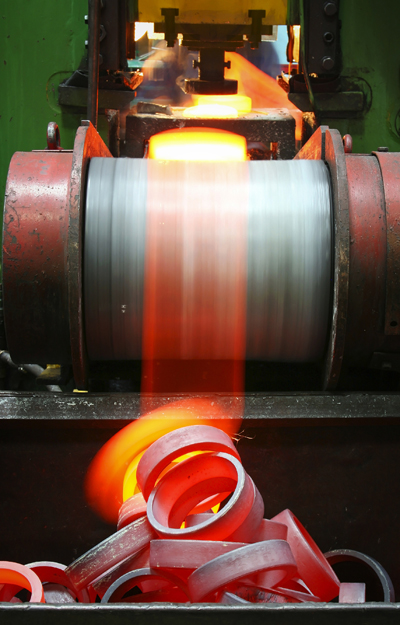 Mahajan's have developed conveyor belts that are heat resistant as well as wear resistant, resulting in a much longer operational lifespan.
High temperatures can do serious damage to the actual conveyor belt carcass itself. Choosing the correct thickness of the cover is essential because the cover acts as a barrier between the heat source and the carcass.
Heat Resistant Conveyor Belts are manufactured in various grades to suit specific application areas.
HR - Our range of HR Conveyor Belts are heat resistant suitable for continuous Temperature up to 120*C.
SHR (T1) - Our SHR(T1) Conveyor belts are used for handling materials from 120*– 140*C.
SHR(T2) - Our SHR(T2) Conveyor belts are used for high temperature material up to 140*-160*C.
SHR(T3) - Our SHR(T3) Conveyor belts are use for continues high temperature up to 180*C
Applications

Cement industry
Glass industry
Chemical industry
Steel and iron industry
Fertilizer industry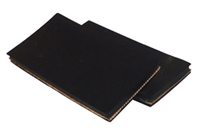 Straight Warp belt is an engineered carcass consisting of length-wise polyester straight-warp, intersected with cross-wise nylon weft, bound together with synthetic warp fibers. Resulting in a highly durable belt with excellent heavy load support. It is basic use in bucket elevators, primary crushers etc.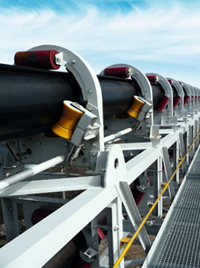 Conveyor belts manufactured by us are designed to meet the exacting standards of client's requirements to ensure a trouble free run that combines the transverse flexibility and longitudinal rigidity in a manner that the belt runs without collapsing or opening up at the overlap or any kind of misalignment.